And here we are with another day of glorious Nintendo news.
March 1st, 2012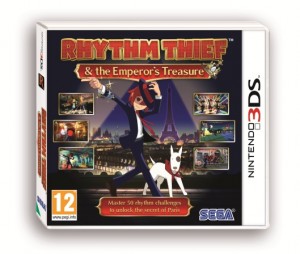 So there you have it.
Virtual Shackles: Mario Pulls Ahead!
See more by Virtual Shackles!
Fight! We bring some Nintendo style to Soul Calibur V
Nintendo consoles may not have Soul Calibur V (yet) but that doesn't mean we can't bring the Nintendo to Soul Calibur V. Considering no other console has access to Super Smash Bros Brawl, it's the least we could do.
Convincing one of our charming colleagues to lend us their Xbox 360 for an afternoon, we were able to fill up their custom character roster with myriad successful and not-quite-so successful Nintendo-ish mannequins.
Not ones to keep secrets to ourselves, here are some handy hints for general character re-creation and some details of the more important steps we took in designing our own clones.
KEY TIPS
What's important?
Soul Calibur V's creation tool isn't the most flexible in the gaming world and, more often than not, you'll have to be purposefully thrifty. Because of this the very first thing to ask yourself is simply – what's important about this character? What defines them? What forms their silhouette? The answers to these most basic questions will form the foundations for re-creating your character, as while you'll never be 100% spot on, Soul Calibur V's character creator just isn't that good. However, nailing the key elements can lead to some surprisingly convincing doppelgängers.
Colour
Before you judge a piece of equipment or an overall design make sure you've examined it in the correct colour scheme. Most armour will look totally wrong until you splash it with the character's correct shade. Similarly, you can get away with a lot just as long as your character's colour palette is correct.
Equipment
The bottom three slots in the equipment menu are your most versatile tools. These three items can be placed anywhere on your character and can take a huge variety of shapes and sizes, particularly the featureless geometry at the bottom. Experimenting is best. If a character is missing a small, defining detail, as most often are, then custom equipment can hold the key. When in doubt, use a Raccoon Tail. That's our best advice. Seriously.
Stickers
Stickers are as equally versatile a tool as equipment. They can change the stitching in a piece of clothing or create the correct markings on a character's face in one quick stamp. Likewise you can use them to create letters, or add that essential falcon to the back of a jacket. Again, experimentation is key, and take these into account when weighing up clothing.
Level up
We've almost unlocked all the available customisation options in the game, but it takes a long long (long) time to unlock absolutely everything. If you're struggling or can't find a piece to replicate our design then chances are you need to level up a little bit more so just go back to enjoying the game.
Anyway, enough talking, on with the freak-show!
MARIO
First appearance: Donkey Kong
Important features:
Rotund belly.
Distinct red and blue colouring.
Moustache.
'M' hat.
Weapon/Style:
Astaroth. Mario used a hammer in Donkey Kong, so this is our homage to that classic, oversized tool.
Our touches:
For Mario's unnaturally bulbous nose we turned the 'Bottle Gourd' horizontal, shrunk it to the appropriate size, and positioned it in place of his ordinary, tiny shnoz.
Mario's moustache is actually a black 'Raccoon Tail' item turned on its side and positioned under the nose. Fluffy.
There is no peaked cap in the game, or at least not that we have found, so we carefully twisted a 'Crescent Moon' around a Knitted Cap to create the appropriate effect.
Stickers were used to replicate Mario's dungaree buttons and the M logo. The M itself uses two mirrored Chinese symbols.
LINK
First appearance: The Legend of Zelda
Important features:
Iconic tunic style with short skirt-like overhang.
Pointed 'Hylian' Ears.
Drooped hat.
Brown adventurer boots and gloves.
Weapon/Style:
Pyrrha Omega. The basic stance adopted in this style most closely resembles Link's default pose. The Patroklos weapon style makes him look unnaturally pious.
Our touches:
There is no proper stand-in for Link's hat so we used the bandana, the tightest headgear available, and combined it with a shrunken, green Raccoon Tail hanging over Link's back. Examined closely it looks silly, but in the heat of combat no-one can notice the fur.
The tunic is called 'New Centurion'. Before colouring it you'd call us mad, but just look at it now – perfect!
As the cherry on the Link-alike cake we gave him a pair of earrings, barely noticeable but we know they're there. We know.
I do not know about anyone else, but this is really awesome!
March 1st, 2012
This week's Nintendo Download includes the following featured content:

Nintendo eShop
Crush™3D (demo version) – Over 50 levels of mind stretching puzzles spread across four stunning environments, each recreating a specific aspect of Danny's inner world. This demo is now available on Nintendo eShop. (For Nintendo 3DS™)

Nintendo eShop
Metroid™ – Packed with high-tech weaponry, creepy tunnels and hideous alien creatures, the first installment in the immensely successful Metroid series introduces us to the slick, cybernetic bounty hunter Samus Aran. (For Nintendo 3DS)

Nintendo eShop and Nintendo DSiWare™
Aahh! Spot The Difference – Demonstrate your powers of observation in this engaging "spot the difference" game. Complete 40 challenging levels in four unique scenarios by spotting the differences between the upper and lower screen. (For Nintendo 3DS / Nintendo DSi™)

Also new this week:
Aya and the Cubes of Light (demo version) (WiiWare™)

To view this week's Nintendo Download in its full graphical version, please visit:

http://www.news2know.net/nintendo/downloadz3FN8s7e.php

In addition to video games available at retail stores, Nintendo also offers a variety of content that people can download directly to their systems. Nintendo adds new titles to the Nintendo eShop for the Nintendo 3DS™ system, to the Nintendo DSi™ Shop for the Nintendo DSi system and to the Wii™ Shop Channel for the Wii console at 9 a.m. Pacific time on Thursdays.

The Nintendo eShop is a cash-based service and features games, applications and videos in both 2D and 3D. Users can add money to their virtual wallets using a credit card or by purchasing a Nintendo 3DS Prepaid Card at a retail store and entering the code from the card.

The Wii Shop Channel offers games and applications and uses Wii Points™, which can be purchased via the Wii Shop Channel. The Nintendo DSi Shop offers games and applications and uses Nintendo DSi Points™, which can be purchased in the Nintendo DSi Shop. A Wii Points Card™ and Nintendo DSi Points Card™ can be purchased at retail locations. All points from one card must be redeemed in either the Wii Shop Channel or the Nintendo DSi Shop, respectively. They are not transferable and cannot be divided between the two systems.

Remember that Wii, Nintendo 3DS and Nintendo DSi feature parental controls that let adults manage some of the content their children can access. For more information about this and other features, visit http://www.nintendo.com/wii, http://www.nintendo.com/3ds or http://www.nintendo.com/ds.
Source: Nintendo PR
@bold
Then what was the big deal with that isaac game?
March 1st, 2012 Posted in
3DS
,
General Nintendo
,
News
,
Posted by Valay
,
Wii

Three new downloadable rewards have been added to Club Nintendo.
Members can choose from Art Style: CUBELLO, Mario's Picross, and Radar Mission. All three games cost 100 coins.
You can purchase each of the rewards here.
3DS Continues to Dominate in Japan
Posted Thu, 01 Mar 2012 | 15:00 GMT by Thomas Whitehead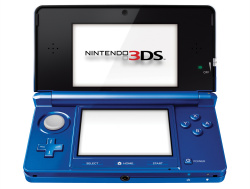 Outselling all the rest
Any suspicion that the 3DS revival in Japan was a temporary improvement is still being disproven, with the latest Japanese charts showing another strong showing for the handheld. With 3DS software also prominent, the handheld is still on a roll in its homeland.
The latest Media Create results, as reported by Andriasang, show that the handheld has once again out-sold all other consoles combined, with a total of 76,322 units. Harvest Moon Hajimari no Daichi — the new entry in the series on 3DS — claimed second in the software charts, while old favourites Super Mario 3D Land, Mario Kart 7 and Monster Hunter 3 G still enjoy top ten positions. The ageing Wii, however, is fifth in the hardware chart with 7,878 units sold and no titles in the software top 20.
While Wii is clearly fading, Nintendo's latest handheld is continuing to enjoy success in Japan. Although results won't be as spectacular elsewhere, it'll be interesting to see how the 3DS performs in other territories in the coming months.
[via andriasang.com]
Punch-Out!! review
Little Mac is back in the ring on 3DS
Format:
Nintendo 3DS
Developer:
Nintendo
Publisher:
Nintendo
Genre:
Sports
Punch Out review Many NES games just don't stand the test of time when played these days. What passed as fun gameplay 20 years ago often comes across as tired and repetitive in this day of unlockable content and complex graphics.

One game that stands firm is Punch-Out!!, an arcade-style boxing game that's just as much fun now as it was back in 1992.

You have to take your boxer, Little Mac, through all the championship circuits, fighting all sorts of hilarious stereotypes along the way.



The great thing about it is that every fighter has a weakness that you need to work out. So you'll be smacking King Hippo in his wobbly weak gut, punching Glass Joe in his glass jaw (the name is a bit of a giveaway) and dealing a few sobering blows to Soda Popinski.

It also features a classic cutscene featuring a pink jump suit and top-class cameo from Mario who stands in as the referee.

Punch-Out Wii stuck to the same formula so if you want a cheaper alternative, the original is still excellent. Top-notch fighting fun.

Punch-Out!! is available to download from the Wii and 3DS Virtual Console

http://cdn.static.officialnintendomagazine.co.uk/images/elements/verdict_box/verdict_filler.jpg) repeat-y scroll 0% 0% transparent;">
New Downloadable Games Now Available on Club Nintendo
by Alex Culafi - March 1, 2012 - 8:04 A.M.
Discuss in talkback! Source: club.nintendo.com

Mario Picross and more enter the fray of sort-of-but-not-really free downloadable titles.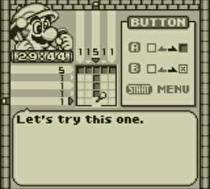 Art Style: CUBELLO, Mario's Picross, and Radar Mission are now available as featured downloadable games on Club Nintendo.
CUBELLO is the only game available for Wii this month, and is priced at 100 Club Nintendo coins. You can read our review for more details on the game.
Mario's Picross and Radar Mission are Virtual Console titles exclusive to the 3DS, and are also priced at 100 coins. All three games on the service will be available through March 31. We recommended both games for fans.
Fun! Fun! Minigolf TOUCH! Rattles into 3DS Cup Next Week
Posted Thu, 01 Mar 2012 | 16:00 GMT by James Newton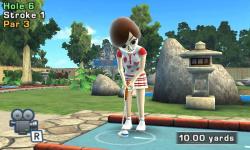 Well, in Europe anyway
Shin'en's first eShop game Fun! Fun! Minigolf TOUCH! is coming to Europe next week.
3DS owners in the continent can fire up their consoles, head over to the eShop and watch a 3D video of the game in action. If you're on a computer you can read our First Impressions: Fun! Fun! Minigolf TOUCH! and anticipate all the Fun! Fun! you can have next week when the game reaches Europe.
No price yet, but we'll update you when we know more.
NintendoWare Weekly: Crush3D demo, Metroid
Nintendo's actually doing a pretty good job with these 3DS demos! Today on the eShop, you'll be able to get a sample of the upcoming puzzle adventure
Crush3D
. You know, in case our
preview
wasn't quite vividly descriptive enough to paint an accurate picture in your brain.
If you missed the Ambassador Program, you can now buy the NES classic
Metroid
on 3DS as well.
WiiWare
3DS eShop
Demo: Crush3D (Sega, 1 player, free): Play with perspective to solve environmental puzzles.
Metroid (Nintendo, 1 player, $4.99): Play Samus's first adventure on the go ... which makes it really hard to draw maps.
DSiWare
Aahh! Spot the Difference (Gamelion, 1 player, $1.99/200 DSi Points): We don't want to alarm you, but there may be differences between scenes in this game.
March 1st, 2012 Posted in
News
,
Posted by Valay
,
Wii U
A patent has given some insight as to what Nintendo had in store for the original design of the Wii U tablet. We've posted a handful of shots comparing the original design versus the model shown at E3 2010.
Thanks to Smeagle for the tip!
Review
PAL Version
Posted Thu, 01 Mar 2012 | 17:00 GMT by James Newton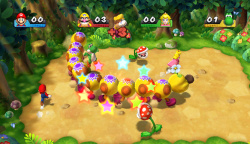 Life and soul
Nintendo's never been afraid to capitalise on the success of its franchises or, as some would say, beat its successful games to within an inch of their lives. Who knew when the very first Mario Party hit N64 in 1998 that, 14 years later, we'd be staring at the 11th — 12th if you count Mario Party-e — instalment in the series? After years of dice blocks and manic minigames, has the franchise finally outlived its welcome?
The pleasing and altogether surprising answer is "no". Mario Party 9 deviates significantly from the series' familiar template, pitching four characters together in a vehicle and having them move along the board together instead of individually. While this removes some of its predecessors' opportunity for devious route-taking and opponent-stomping, it actually works well, increasing the speed of games and facilitating a new style for the boards.
Instead of collecting coins to purchase stars, you now collect mini-stars when you pass over certain squares. Mini-stars are generously distributed around the boards, so it's no longer a case of everyone racing to get to one spot only for the Star to move. There are so-called mini-ztars that rob you of your precious little lights though, so look out.
Gone too is the rigid structure of playing a mini game after all characters have taken their turn. Mini games are less frequent occurrences now, taking place when you land on certain squares or simply by chance, and this title is better and quicker for it. That's not to say the mini games are poor — most of them eschew shaky motion controls in favour of holding the Wii Remote NES-style, but the games that employ motions do so with a quick shake or simple twist. Some might be disappointed at the lack of Wii MotionPlus controls, but that's more Wii Play Motion's arena; it's unlikely Ndcube could have come up with 80 motion-emphasis mini games that are as good as the more traditional button-based affairs often found here. Gladly there's rarely a scenario where the controls get in the way, with simple explanations and practically zero loading time getting you in and out of the games quickly and easily. With 80 mini games included there's bound to be a few duff ones, but on the whole it's one of the strongest arrays for quite a while.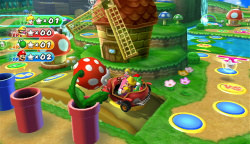 Still more change comes in the form of new boss battles: whereas previous games ended after a certain number of turns, each board in MP9 now has a clearly defined end point where the final boss lurks. Reaching a boss or mini-boss as the Captain — i.e. on your turn — nets you bonus mini-stars and the choice to pick your opponent, and while there aren't that many boss options most of them are an enjoyable mix of skill and chaos. Whether you're on a mine cart destined to fire a cannon at a Chain Chomp or playing a fantastically tactical numbers game with Whomp, they're just long enough to feel like boss battles and just short enough to stay fun.
You'll be able to finish most parties in around 30 minutes, whetting the appetite for another go-around. Play accumulates party points, which you can spend on new boards, vehicles, a harder difficulty level or constellations for the observatory mode. It'll take plenty of play to unlock everything, whether solo or in a party, providing welcome reasons to return. In fact, there's a separate mode that pitches single players against CPU opponents across each board: if you lose, you fail the board and have to try again. Suffice to say, you won't be firing it up for repeated solo play.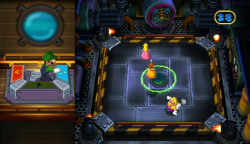 Not in the board game mode at least, but the Extras menu holds a few intriguing alternatives, from an addictive puzzle game with the most infuriating music to Goomba Bowling, where you throw red shells at waves of Goombas. Both are worth a blast, though Shell Soccer is pretty woeful. You can also choose to play any unlocked mini game at your leisure if you don't fancy traipsing around the board.
It's not all successful though: the so-called Captain Events are often poorly explained side quests that confuse far more than they entertain, and unlike fellow recent Mario-themed board game Fortune Street/Boom Street there's no online play, so it's strictly a single room-only experience. It doesn't suffer too much for that — all parties are best contained in a single area — but if you don't have a regular corral of local players you might find it off-putting.
Conclusion
Mario Party 9 makes the most major changes to the series we've seen in years, streamlining it to a short and snappy rush of mini games. It's less predictable than its previous instalments, smartly ditching the dead wood in favour of a fresh approach that emphatically reminds us why the series has been going for 14 years.
8/10
Super Mario Bros.
The original platformer
Format:
Virtual Console
Developer:
Nintendo
Publisher:
Nintendo
Genre:
Platform
As soon as this appears on your Virtual Console list, you download it. Simple as that. The game that defined the platform genre, Super Mario Bros. is a game everyone should play before they die.

If you've never played it we can only assume it's because you were too young when it came out or you're not a 3DS Ambassador. If so, fair enough: just download it to hide your shame and we'll never speak of it again. If you have played it, you'll already know why it's an essential purchase.



The music. The flagpole. The fireworks. The warp zones. Jumping on the drawbridge to send Bowser into the fire. The Fire Flower. Kicking a Koopa Troopa shell into other enemies. The 1-Up Mushrooms. World 1-2 with the 'boodoo boodoo boodoo' music. And the classic "Thank you Mario! But our princess is in another castle!" line.

The fact that our Chris, 25 years after he first played the game, still stays behind after work to complete it again is a testament to its perfect gameplay. This is the sort of game that the Virtual Console was designed for.

Super Mario Bros is available to download on the Wii Virtual Console and from the 3DS eShop

The NINTENDO PACT 2015[2016 Vgchartz Wii U Achievement League! - Sign up now! My T.E.C.H'aracter