Xxain
on 27 September 2011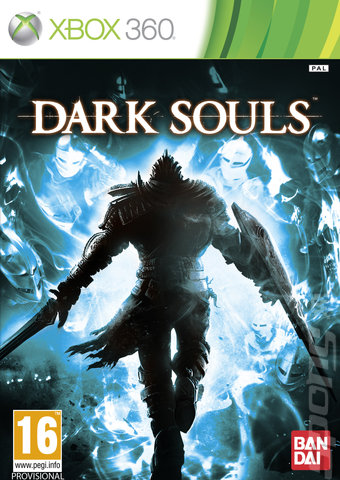 On
Developed By:
Published By:
Release Date:
10/4/2011
What Is Dark Souls
Dark Souls is the spiritual successor to PS3 Xxclusive Demon's Souls which in turn is spiritual successor to King's Field. Dark Souls focuses on Dungeon crawling in a Open World Dark Fanatasy Setting. The Theme is "Tension and Fear That arises when players encounters enemies in this etting". Dark Souls has been said to be significantly Harder than Demon's Souls with more enemies nd encoounters. It futher builds upon Demons Souls with More Weapons, Armors, larger areas and bon fires that act as respawn points can also be used to replinish health.
Plot
* NB is being hush hush on the plot but here is 4 prologue trailer that sheds just a little light
Classes
Warrior: A Fearless Warrior nd Wepons expert with high strength and dexterity
Knight: You Star as a low ranking knight with high HP and solid Armor. Your not easily toppled
Wanderer: The aimless wanderer has high dexterity. He/She wields a schmitar
Thief: Gult-ridden, thief deals high critical hits and has a Master Key
Bandit: Savge, but with high strength, the bandit wields a battle axe
Hunter: The hunter wields a bow and arrow; perfect for close range> However, this class is vulberable to magic
Sorcerer: Trained at Dragon School, they cast Soul sorcery.
Pyromancer: They are armed with hand axe and can cast fire spells.
Cleric: The cleric cast healing miracles and wields a mace
Deprived: The deprived class starts the game with only a club and plank shield. he has no clothes.
Online:
* as of now there has been no updates to the online segments of Darks Souls as From has not released ny and Japans servers have just went up today. Will updat as soon as info is given but heres what he had to say about it.
The story telling in Dark Souls is still a secret, for now it seems Namco has decided to use a cinematic approach, similar to the one used in Demon's Souls. We caught up with the Dark Souls QA lead, David Humbart, who walked us though the review edition of the game, and further explained how multiplayer will work. You can check our interview with David below. The expanded universe of Dark Souls far exceeded our exceptions. While still being slightly restricted in some areas, and going with the always connected theme feature in Demon's Souls, Dark Souls will again allow you to place messages and helpful hints, or even summon other players into your game to help you. This new and improved version of multiplayer, has created some features that make the online play in Dark Souls reflect most MMO's
Players online in areas of the world near you can be affected by what you do, and are susceptible to an attack at any time. How FromSoftware determines whose close and who's not is partly based on where they are in the game, and which server their playing on. However, crossing over to another persons world will required some upgrades and rare items to grant you access. Some items and abilities bypass the need to upgrade, and will allow you to affect the other persons world without you ever going there. Spell casting is one of those features.
Players now have the ability to cast spells across worlds to help or hinder other players. Be advised, sabotaging another persons world( though satisfying) is not always a good idea. One spell in-particular will allow you to make another persons world harder during their single player play through, if they want to reset the difficulty( and they will) they will need to find out who did it, and defeat them to break the spell. If and when that person comes after you, you have no way of knowing until they're issuing that deadly kidney shot, sending you back to soul form.
There are a number of new cross world multiplayer features in Dark Souls that players can experience. The one thing that's still left to question is how to play with friends. Namco has been unclear on if players will have the ability to invite friends to single player games. The overall concepts for non competieve multiplayer modes in Dark Souls seems to be pretty random, making things feel slightly disconnected from a social aspect. Also not helping with the making of friends is a return of the emote system. With no voice communication confirmed just yet, you may find yourself wanting to stab your helper because they dont understand what you need them to do.
gameply videos
Screens
Trophies/Achievements Hunters
*carefule secret trophies are showing*
The Dark Soul
All trophies obtained. Congratulations!
Knight's Honor
Acquire all rare weapons.
Wisdom of a Sage
Acquire all sorceries.
Bond of a Pyromancer
Acquire all pyromancies.
Prayer of a Maiden
Acquire all miracles.
Covenant: Way of White
Discover Way of White covenant.
Strongest Weapon
Acquire best wpn through standard reinfrc.
Crystal Weapon
Acquire best wpn through crystal reinfrc.
Lightning Weapons
Acquire best wpn through lightning reinfrc.
Raw Weapon
Acquire best wpn through raw reinfrc.
Magic Weapon
Acquire best wpn through magic reinfrc.
Enchanted Weapon
Acquire best wpn through enchanted reinfrc.
Divine Weapon
Acquire best wpn through divine reinfrc.
Fire Weapon
Acquire best wpn through fire reinfrc.
Chaos Weapon
Acquire best wpn through chaos reinfrc.
Enkindle
Light bonfire flame.
Estus Flask
Acquire Estes Flask.
Reach Lordran
Arrive in Lordran.
Ring the Bell (Undead Church)
Ring Bell of Awakening at Undead Church.
Ring the bell (Quelaag's Domain)
Ring Bell of Awakening in Quelaag's domain.
Rite of Kindling
Acquire the Rite of Kindling.
Art of Abysswalking
Acquire the Art of Abysswalking.
Reach Anor Londo
Arrive in Anor Londo.
Lordvessel
Acquire the Lordvessel.

Secret Trophies

To Link the Fire
Reach 'To Link the Fire' ending.
Dark Lord
Reach 'The Dark Lord' ending.
Covenant: Princess's Guard
Discover Princess's Guard covenant.
Covenant: Blade of the Darkmoon
Discover Blade of the Darkmoon covenant.
Covenant: Warrior of Sunlight
Discover Warrior of Sunlight covenant.
Covenant: Forest Hunter
Discover Forest Hunter covenant.
Covenant: Darkwraith
Discover Darkwraith covenant.
Covenant: Path of the Dragon
Discover Path of the Dragon covenant.
Covenant: Gravelord Servant
Discover Gravelord Servant covenant.
Covenant: Chaos Servant
Discover Chaos Servant covenant.
Occult Weapon
Acquire best wpn through occult reinfrc.
Defeat Gravelord Nito
Defeat the Soul Lord Gravelord Nito.
Defeat Bed of Chaos
Defeat the Soul Lord Bed of Chaos.
Defeat the Four Kings
Defeat the Four Kings, inheritors of souls.
Defeat Seath the Scaleless
Defeat Seath the Scaleless, inheritors of souls.
Defeat the Dark Sun Gwyndolin
Defeat Dark Sun Gwyndolin, the Darkmoon God.
Defeat Crossbreed Priscilla
Defeat Crossbreed Priscilla, the Lifehunter.