This announcement seems to mark how many combo packs and single sticks that Sony has shipped to retail in preparation for the holiday season.
Since most people are probably buying at least 2 of these items, the 4.1M number is at least 2x the expected user base by the end of the year.
However, Sony may have been too late in getting items to market as the eBay sales and apparently unavailability of the controllers at retail means that demand is outstripping supply.
Mike from Morgantown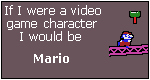 I am Mario.


I like to jump around, and would lead a fairly serene and aimless existence if it weren't for my friends always getting into trouble. I love to help out, even when it puts me at risk. I seem to make friends with people who just can't stay out of trouble.

Wii Friend Code: 1624 6601 1126 1492

NNID: Mike_INTV