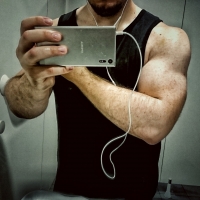 4,054
L4: Grunt
(946 until level 5)
SKMBlake
A

26 year old male gamer

France

Joined on

October 9th 2017

, last online

11 hours ago

.
Profile Views: 2,248
Forum posts:

840 times

which averages

2 posts per day

VG$ 1000.00
Open For Business
Earned 10 badges.
Freezing
Logged in on Christmas day.
Haunted
Logged in on Halloween.
Trust Me, It'll Have Legs
100 replies made to user's most popular thread.
1st Birthday
Has been a VGChartz member for over 1 year.
Mirror Image
Awarded for uploading an avatar.
Harvest Time
Logged in at the start of Spring.
Mighty Heart
Logged in on Valentine's Day.
So You Came Back For More, Huh?
Logged in a second time.
Leaving Limbo
100 posts on the gamrConnect forums.
'Ello Princess!
Awarded for signing up.