JEMC said:
*** NEW CONTEST ***
With a new hardware launch, HEXUS comes with a new contest. Except this time it's two hardware launches, so there are two very, very good contests:
Win one of two AMD Ryzen 7 3700X upgrade bundles
https://hexus.net/tech/features/cpu/132377-win-one-two-amd-ryzen-7-3700x-upgrade-bundles/
To celebrate the launch of Ryzen 3rd Gen, we've teamed up with our friends at AMD, Asus and Corsair to give you the chance to win one of two incredible Ryzen 7 3700X upgrade bundles!
Each lucky winner will bag an eight-core, 16-thread Ryzen 7 3700X CPU, an Asus ROG Crosshair VIII Formula X570 WiFi motherboard and a super-fast Corsair Force Series PCIe Gen.4 MP600 1TB NVMe M.2 SSD! And just because we can, we're also throwing in a Corsair Dominator Platinum RGB 16GB DDR4 memory kit, a Corsair Hydro Series H100i RGB Platinum 240mm liquid CPU cooler and a Corsair RM Series RM750 power supply!
The best part is that this amazing contest is GLOBAL.
Win a PC Specialist 3rd Gen Ryzen Gaming PC
https://hexus.net/tech/features/systems/132395-win-pc-specialist-3rd-gen-ryzen-gaming-pc/
Fancy getting your hands on a shiny new base unit brimming with the latest in AMD Ryzen and Radeon hardware? Then you've come to the right place!
In partnership with the kind folk at PC Specialist, we're giving our fabulous readers in the UK and Europe the chance to win a 3rd Gen Ryzen Gaming PC outfitted with an AMD Ryzen 5 3600 processor, Radeon RX 5700 graphics card, ASUS X570-Plus motherboard, 16GB of Corsair Vengeance DDR4 memory and a 256GB M.2 SSD!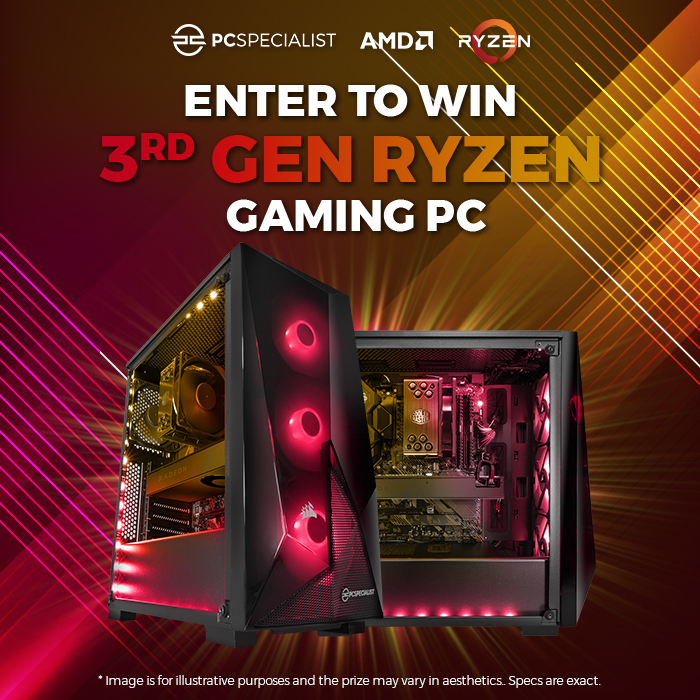 Sadly, this contest is only open for the UK and EUROPE.
Well, hope I'll win. My Athlon 2 X4 635 is getting very old now...
Also took part of their SSD contest. Who knows...